FFQF: George Washington on Moral Authority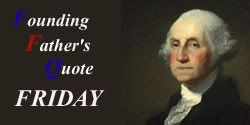 Again today, we examine our theme of "moral authority." Our goal, once again, is to solicit the Founding Fathers on the question of "What is the foundation for morality?"
Today, we will hear from George Washington. He is definitely a fitting person to hear on this subject, as he has been called "the Eighth Wonder of the World" for his sterling virtue. Surely he can at least give us a few pointers as to the authority for moral standards. Here are his words, taken from his First Inaugural Address, of advice to the new American nation:
By the article establishing the Executive Department, it is made the duty of the President "to recommend to your consideration, such measures as he shall judge necessary and expedient." The circumstances under which I now meet you, will acquit me from entering into that subject, farther than to refer to the Great Constitutional Charter under which you are assembled; and which, in defining your powers, designates the objects to which your attention is to be given.

… [T]here is no truth more thoroughly established, than that there exists in the economy and course of nature, an indissoluble union between virtue and happiness, between duty and advantage, between the genuine maxims of an honest and magnanimous policy, and the solid rewards of public prosperity and felicity: Since we ought to be no less persuaded that the propitious smiles of Heaven, can never be expected on a nation that disregards the eternal rules of order and right, which Heaven itself has ordained: And since the preservation of the sacred fire of liberty, and the destiny of the Republican model of Government, are justly considered as deeply, perhaps as finally staked, on the experiment entrusted to the hands of the American people.
I need not add anything; Washington said it all.
3 comments on "
FFQF: George Washington on Moral Authority

"
Leave a Reply