FFQF: America Was NOT Self-Made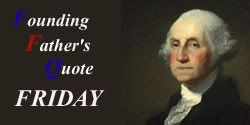 If there is one thing America could use now, it's an attitude of gratitude. Maybe a major factor in America's straying is the thinking that we have entertained for several decades, is that we made ourselves great, and that therefore, America's destiny and purpose was ours to carve. Contrary to what our humanist history books would have us believe, America is not a monument to man's potential. It is a monument to the Gospel.
Generations of Christian martyrs fought with the world, stood firm under fire, and preserved the Scriptures with their blood, so that their descendants could live in this land in freedom, could spread the Gospel to the most distant corners of the earth, and shelter countless immigrants on our shores.
No nation has ever seen success without God's help, and the nation that refuses to acknowledge that, and to respond with humility and gratitude has always been humbled.
No people can be bound to acknowledge and adore the Invisible Hand which conducts the affairs of men more than those of the United States. Every step by which they have advanced to the character of an independent nation seems to have been distinguished by some token of providential agency; and in the important revolution just accomplished in the system of their united government the tranquil deliberations and voluntary consent of so many distinct communities from which the event has resulted can not be compared with the means by which most governments have been established without some return of pious gratitude, along with an humble anticipation of the future blessings which the past seem to presage. These reflections, arising out of the present crisis, have forced themselves too strongly on my mind to be suppressed.

President George Washington, First Inaugural Address, April 30, 1789
2 comments on "
FFQF: America Was NOT Self-Made

"
Leave a Reply